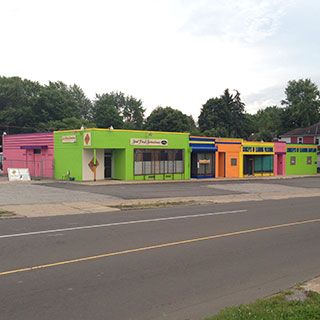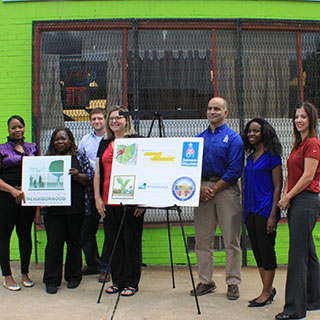 Tuesday, August 12, 2014
A paint-up project was completed on a Glenwood Avenue plaza which houses Soul Food Sensations, a local soul food restaurant, and Concepts of Learning, a neighborhood daycare facility.
The project was supported through a grant provided by Keep Ohio Beautiful and Sherwin Williams. The bright, vivid colors used in the design were selected to add a splash of color to Glenwood Avenue. A new outdoor seating area is planned for construction outside of the restaurant within the coming months.
A significant effort has been undertaken by the City of Youngstown, YNDC, residents, and stakeholders along Glenwood Avenue to begin the long process of revitalizing the commercial corridor. Highlights of this effort to date have included the demolition of over two dozen blighted homes and commercial buildings along Glenwood since 2011, the installation of a new city park, completion of several major public art installations, and a new Bottom Dollar grocery store.