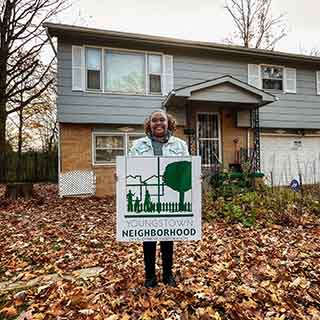 Monday, November 13, 2023. 
Avery is a YNDC Housing Counseling client and first-time home buyer who highly recommends our FREE HUD-approved housing counseling program. Avery moved to Youngstown when she was 15 years old. "I just love my city," she said. "I enjoy everything about it; the people, the scenery. I think Youngstown is worth the time and effort."
A lot of prayer led her to buy this specific home. She has friends and family in the neighborhood, and she loves the peace and quiet. She expanded her square footage so much in this home, she even has an extra room she can use as an office. Her new home has two full decks she can enjoy year round. She said "I am an East Sider, I grew up here, and my mom bought her first house here."
Avery is a success story of our HUD-Approved Housing Counseling Program. "They made me discipline myself in my finances, so I could save money," she said.  "I cut back on things I didn't need and savings became my goal. It helped me clean up my credit. And it wasn't overbearing. I set a goal, I started small, and worked my way to bigger payments. By the time I got to the bigger payments, I was used to making payments, so it developed into a habit for me."
She has suggested this free program to many people, and encourages anyone struggling with their finances to take advantage of this opportunity. "They can tell you what you need to do and get you started on the right track," she said. Congratulations Avery! Thank you for your investment in Youngstown's neighborhoods and best wishes in your new home! #REVITALIZE #youngstown 
YNDC's FREE HUD-Approved Housing Counseling program assists clients with identifying and resolving barriers to obtain and sustain quality affordable housing in confidential one-on-one counseling sessions over the phone. Please call YNDC at 330.480.0423 for more information or to enroll in the program.